Sunshine Coast's Civil Construction Training Prodiver
Diggerman Training is a registered training organisation based on the Sunshine Coast which offers a range of training courses for those already in the construction industry looking for licence upgrades, training for new skills, or for those wanting to gain employment in the construction industry.
We specialise in the tickets and certifications needed to safely operate machinery with high levels of skill. We also provide other associated training courses and certifications required by the construction industry, including civil construction certifications, safety, WH&S, dogging, confined spaces and working at heights.
What makes Diggerman Training stand out from other RTO's on the Sunshine Coast is the fact that they are a well-established operational earthmoving company, Diggerman Earthmoving, which offers practical hands-on experience operating machinery in real life job situations for students during their training.
For those students who excel at their operator training courses, Diggerman Earthmoving is always on the look out for above average students seeking employment, and also has a long association in the industry with other companies looking for talented, committed and hard-working machine operators. So not only do you get the training you are seeking to elevate your career options, you also gain access to our enormous network of clients through the Diggerman Earthmoving enterprise.
Diggerman's trainers are complemented by their connection with Diggerman Earthmoving. Diggerman provide their own machinery for practical testing on their training site, while also being flexible and allowing you, the student, to use your own machine on any local job location. Diggerman trainers each have over 20 years experience in the industry, providing you with the best guidance throughout the duration of the course.
Diggerman training prides themselves in meeting their client's needs and Registered Training Organisation standards, with experienced, friendly trainers and great attitudes towards your future success in the industry. They recognise that not all their students come to them having the same level of experience, with that in mind their trainers cater to each individuals needs. They have a number of courses ranging from no experience, to the operator who has been working in the industry for many years.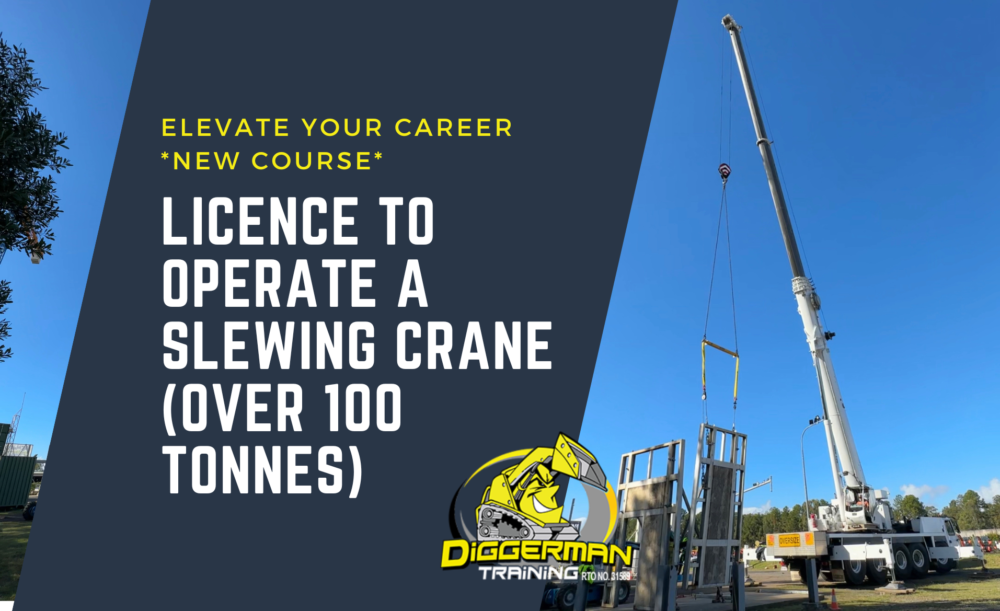 Diggerman Training
Get ready to ELEVATE your career to new heights, with our NEWEST Crane course, Starting 4th December 2023: 
TLILIC0020 Licence to operate a slewing mobile crane (over 100 Tonnes)
The demand for skilled Crane Operators has never been higher and our Licence to operate a slewing mobile crane (over 100 Tonnes) course is your pathway to turning that vision into reality.
Read More